STANCE4HEALTH – Smart Technologies for personAlised Nutrition and Consumer Engagement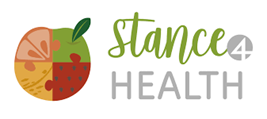 The world is currently facing a Nutritional Transition, which has been onset by an obesogenic food environment resulting from a global adoption of the Western diet. Non-Communicable Diseases (NCD) such as obesity, type 2 diabetes and metabolic syndrome are now collectively responsible for almost 70% of all deaths worldwide. It is therefore the overall objective of Stance4Health to 'redirect' the 3rd Nutritional Transition through adoption of better personalized nutrition based on the use of smart mobile technologies as well as tailored food production, which will optimize the gut microbiota activity. A set of new tools developed within the project will allow for an adoption of healthy, pleasant and sustainable dietary patterns similar to the Mediterranean Diet (MD), while also encouraging citizen engagement for an improved understanding of healthy lifestyle.
The Smart Personalised Nutrition approach proposed by Stance4Health will be tailored to different target groups, from healthy children and adults to children with coeliac disease or food allergy, as well as overweight children and adults, which will have an impact on the development of NCDs such as obesity or type 2 diabetes. The specific personalised nutrition tools developed along Stance4Health will be based on robust scientific evidence and knowledge from different fields like nutrition, medicine, food sciences, microbiology, computer sciences, and social sciences and humanities like economics, marketing, psychology and social anthropology.
Researcher: José Ángel Rufián Henares
Center: University of Granada
Rol in the project: Project coordinator
Duration: 2018 – 2022
Página web del proyecto: https://www.stance4health.com/partners.html